Things to think about when buying the best generator for RV
One of the reasons many people head out in an RV as opposed to a tent is because they still want the 'joys' of camping, but they do not wish to give up the little luxuries that they have become accustomed to (read: electronic devices and appliances).
Of course, when you are 'out on the road', you don't have your electrical hookups. This means that you will need a generator.
But, what is the best generator for RV? That is what we are going to look at some of the things that you will need to consider.
Type of Generator
You have:
Diesel
Propane
Gasoline
Solar
Each has its own pros and cons. For example; diesel is very fuel-efficient and quiet, but gasoline is cheaper.
Solar is very affordable to run, but you are at the whim of the sun. If you are in shade, your solar generator isn't going to charge so you will need a backup option.
Power
No matter what generator you pick up, you will need to pay attention to the power it can pump out. You need to ensure that it will ensure that all your appliances can keep running.
If you are going to be powering everything in your RV, then 3000 watts at the absolute minimum. If you are just watching TV and charging electronics, then maybe 2000 watts.
But, of course, this is going to be dependent on your specific needs.
Do bear in mind that the more powerful the generator, the heavier it will be.
Volume
Generators are loud. If you are staying around other people, then you need to ensure that the generator is as quiet as possible, while still giving you the power that you need.
If the volume is a factor, then steer clear of gasoline and diesel generators. Go down the route of propane.
Ideally, you wouldn't want a generator that is above 65 decibels.
Portability
You need a generator that is portable. If you are going to be moving campsite every day, then the best generator for RV for you will be a low weight one.
Although, do bear in mind that you will need to compromise on some features here. If you must get a heavier generator, then make sure that it is designed to be portable e.g. wheels and a handle.
Maintenance
Never buy a 'cheap' generator. Maintenance is hard. It is difficult to get hold of spares, and nothing will be clearly documented.
It is worth spending a little bit more. Some generators will require more maintenance than others too.
Diesel and solar are the best low-maintenance options on the market.
Obviously, this is just a few of the things that you will need to think about when it comes to finding the best generator for RV, but they are fantastic starting points to get the juices flowing, and hopefully lead you towards the perfect generator for your money.
RV generators are specifically built for RV appliances. Everything plugged into the outlets of the RV will benefit from its power for hours on end and even days.
In fact, there are portable ones too, yet those cost a bit more.
The Information About The Best Generator For RV will allow you to learn more about this type of generator.
Below are some of the best generator for RV
Image
Name
Price

Key
Features
Type
Power
(Watts)
Carb.
Approved
DuroMax XP4000S
Read Full Review
7.0 HP Air Cooled OHV Gasoline RV Generator

Portable
4000
Yes
Champion 4000
Check Price
RV Ready DH Series Open Frame Inverter with Quiet Technology

Need wheels
4000
Champion 3500
Check Price
With Wireless Remote Start and RV Ready

Portable
4000
Yes
Champion 3500
Read Full Review
Dual Fuel RV Ready
Need wheels
3500
Champion 3400-Watt Dual Fuel RV Ready Portable Inverter Generator with Electric Start

Check Price
Dual Fuel RV Ready with Electric Start

Portable
3400
Champion 3400-Watt Dual Fuel RV Ready Portable Inverter Generator
If you're looking for a top-quality generator, look towards the Champion 3400-Watt Dual Fuel RV Ready Portable Inverter Generator. It's a generator that works well and is easy to use.
The generator runs at idle speeds and you can even have it operated by someone with no knowledge of how to work with one properly.
It gives you a big benefit with the use of dual-fuel, it's portable while looking great and easy to get it running. Having it be so compact too means storing it is also simple while also being quiet.
One of the main cons that could come up is starting up if the battery doesn't seem to be fully charged, it needs to run when it's about 50% or more on a charge.
So if you ever decide to take this on a trip, make sure it's fully ready to be used otherwise you'll end up in a bit of a pickle. Check price of Champion 3400 watt here.
Champion 3500-Watt Dual Fuel RV Ready Portable Generator
If you're in the market for a new generator, look towards the Champion 3500 Watt Dual Fuel RV Ready Portable Generator. It's at a great price while being easy to operate and unload.
This product will give you proper peace of mind whenever you're hit with any outages. With the use of dual fueling, you can keep propane near you without needing gasoline.
Maintenance is also quite simple and you'll learn that getting it up and running is a breeze.
It'll overall be a smooth run with this generator. Any main concerns that'll arise from this generator are the fact that it's a little noisy.
It isn't said to be too loud originally but it didn't live up to that, otherwise, it'll also have a small issue with handling as it doesn't have wheels.
But with the few downsides, you'll know that you're buying a quality product that is still dependable and powerful.
Components to consider – Fuel and Cleanliness
Travelers may want to invest in generators specifically for those most compatible with their RVs. When investing in one, note that they're not the same as regular generators for the home.
They're made to run on fuel, diesel, natural gas, or propane.
The type of RV you drive in will make a difference such as the size of it, the electrical, and the mechanical components of it.
When not in use for months, the fuels (such as diesel fuel or gasoline) may "gum up" or "clog up internal engine parts" (Ostermangas.com, 2010).
At any rate, it will only make it difficult to start up during winter times.
Therefore, emptying out the fuel if you plan on not using it for a while can prevent fuel line damage.
Rubber seals can get damaged too if fuel is left for (6) months or more in it (Ostermangas, 2010).
Check price of this Champion 3500-watt here.
Champion 4000W portable generator brings the latest technologies
This Champion 4000W portable generator brings the latest technologies to give you power
Experience your outdoor activities with maximum comfort by using this Champion 4000W portable generator.
Fueled by gasoline, it supplies 4,000 starting watts and 3,500 running watts so that you can make your workshop anywhere.
KEY FEATURES of Champion 4000W portable
-Up to 17 hours of continuous operation.
-Economy mode option, which saves fuel and extends its run time.
-Low-noise reading of 64 dBA, so it won't distract you from what matters.
-Stable power supply, having a low Total Harmonic Distortion (THD) of 3% or less.
PROS of Champion 4000W portable
-It has one of the best continuous run time of all the portable generators in the market.
-Its intelligent design provides quieter operation and lighter body in comparison with previous models.
-Three years limited warranty and lifetime technical support free of charge, so you know you are buying a product that is built to last
CONS of Champion 4000W portable
-The lack of wheels limits its practicality.
-Weighing 81.6lbs, it is not so portable to be moved around all day.
-It's a little more expensive than other generators with the same power delivery.
Check out the price of this 4000 watt generator.
CONCLUSION
Have the perfect balance between power and mobility with this Champion 4000W portable generator.
It is probably the most advanced portable generator in the market.
If you're willing to pay the price, it's lighter and more silent than its predecessors and similar products from other brands.
DuroMax XP4000S 4000W portable generator is your private power
The DuroMax XP4000S 4000W portable generator is your private power station
Perform all your outdoor activities just as if you were at home with this DuroMax XP4000S 4000W portable generator.
This power system offers 4,000 starting watts and 3,300 running watts to run your most powerful appliances.
Fueled by a 3.9-liter gasoline tank, its air-cooled motor will develop 7 horsepower.
KEY FEATURES of DuroMax XP4000S 4000W
– It provides up to 12 hours of power if the tank is full.
– Surge protection technology, so your connected devices will be protected in case of oscillations in the power supply.
– Low-oil sensor shutoff, providing a safer operation
– Sturdy build, making it resistant to intense use.
PROS of DuroMax XP4000S 4000W
– The power supplied should be enough for your daily needs without having to add more fuel.
– The isolated motor mounts provide silent and smooth operation.
– It's an intermediate option between a fixed generator and a carry-on appliance, giving you the best of both worlds.
CONS of DuroMax XP4000S 4000W
– Handle and wheels are sold separately, so you need to spend a little more if you plan to move it around constantly.
– Weighs 92lbs, making it not so practical if you are handling it by yourself. Check out the price of this cool Duromax generator here.
CONCLUSION
Have a power station wherever you go with this DuroMax XP4000S 4000W portable generator.
If you can handle the weigh, this power source will probably attend all your needs for a whole day without having to refill the tank.
Features and Specifications to look for in a 3-4W RV generator
– USDA Forest Service Approved Spark Arrestor Muffler
– Reduction in noise levels with Sound Attenuating enclosure
– provides protection with faults or overloads
– Control panel should provide set diagnostics
– 4.0 kW Gasoline Powered RV Generator
– Power to run a 15,000 BTU AC (30A 1-Pole Breaker)
– Warranty with annual and max hour warranty
Traveling with a safe RV generator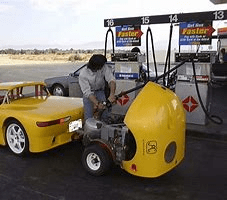 If you select a decent-to-best generator for your RV, you shouldn't have any doubts or worries about it when you go on your road trip to the Mountains or Cross country.
Simply arriving through the thickest of weather (ie. storms, ice, snow, and weather emergency type …) is what you want to drive through safely.
As a result, you don't want a cheap, old generator you haven't started up in years!
When you travel for miles with your family, wouldn't you want a quality that has driven, strong, sturdy, and most of all, reliable RV generator?
For some of the RV generators sold today, these are a few of the features and specs which are important to consider.
Features and specs of a standard RV generator
These features listed below are the standard criteria for a good RV generator considering you invest in one with the safety and protection features in mind.
In other words, if you consider investing in a new RV generator, you want it to save you from a "miserable vacation."
Gone are the days (and nights) when you suddenly have a power surge (during a bad, lightning and thunderstorm).
In general, not all have these features either. Although considering today's advanced technology, anything is possible in the 21st century.
High-tech products such as these options (i.e. overload protection, starter over crank protection…) make any RV journey enjoyable and entertaining.
Quality-made RV equipment such as RV generators is a must-have investment, entirely for the purpose of having a safe and fun trip on the road.
This is a good example of some critical elements of the Onan RV generators' product line series.
Loss of AC sensor protection
Starter over crank protection
Over/under frequency and voltage protection
Mechanical fault protection
Generator set field overload protection
Detects starter faults
Magnetic circuit breaker
Automatic resetting of DC circuit overcurrent protection
Microprocessor control with a digital voltage regulator
Reverse connections and high battery voltage protection
Planning your RV generator expedition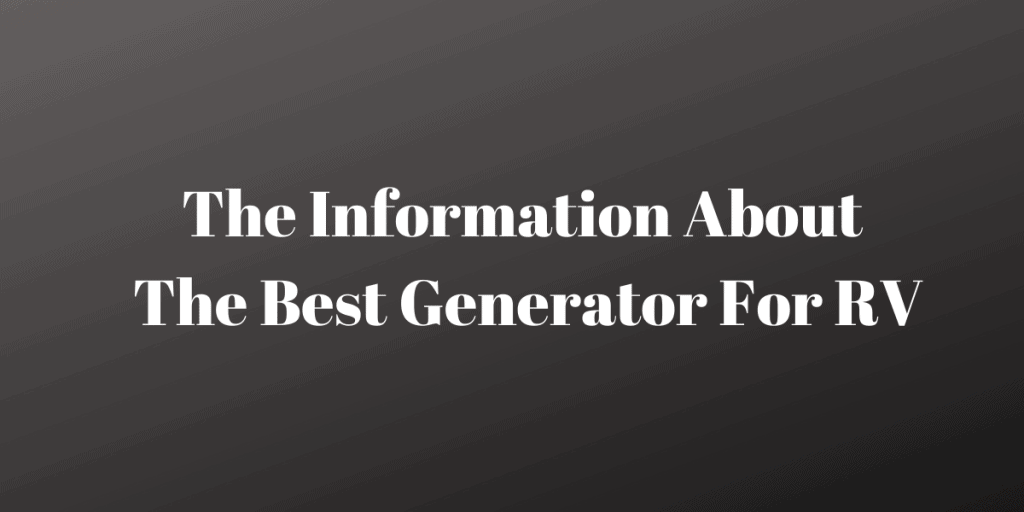 Another one in the Onan series is the Onan QG generator; it's considered an ideal one for small-to-mid length RVs.
In general, you may want to calculate the voltage you tend to pull out of your RV.
For instance, your appliances or electronics should be listed and calculated to the total of wattages you plan on pulling from the generator you plan on investing in.
If possible, use a chart or table and list everything you may use or run simultaneously.
Keep Reading The Information About The Best Generator For RV to learn more.
A possible scenario written down will help the entire family.
Ask around and see if there are any 'additional electrical appliances' which may need charging up or electricity.
When you go to a nearby camping ground, ask about their policies on camping with generators; most charge a fee to plug in there outlets
Camping in your RV for a weekend, you and the others on the trip may be using a television or computer.
The appliances are obvious (i.e. fridge, stove, trash compactor, air conditioner (rear and front), fans, radio, phone, and chargers…).
If you do an extensive search on your investment, it'll take weeks until you finally find something you like since there's a ton of them online.
Calculating your RV generator needs
It would be wise to calculate how much amps are used by each electronic device or appliance.
Another component is the size of your RV, so additionally, you want to consider where you plan on traveling to and if they have hookups and electrical outputs at the camping grounds.
These questions are common for campers.
What's the fee if you do use a generator on a National or State Park?
Ask yourself, are you going to use your RV for more than 8 hours a day? And for how many days?
How will you use the generator? Will you be tailgating, going to outdoor events at the campground, or only camping, fishing,…etc.?
Power management
The power of managing your appliances can be followed by this guide. For example, the refrigerator = 1600 starting wattages and 200 running wattages. Here are other common appliances.
Starting Wattage and Running Wattage
Furnace (1/4 hp fan) 1600w
5 Lights =300w
TV =300w
Microwave = 1500w
Total 5300 available, but 2900 are being pulled from the generator.
Focus on TOTAL WATTS.
(N.A. N.D. Powerequipment.honda.com/generator/)
The best generator for an RV air conditioner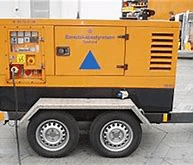 With this in mind, there are a few Best RV Air Conditioners to keep in mind for your RV air conditioner.
These were reviewed by the experts as noted below in the reference area.
With several ideas, and with some clever reasoning, here's a couple of top-rated RV generators exclusively for air conditioner systems in the RV itself. Voted, reviewed, used, and pondered over for those interested in a smart investment, notice the power it releases, the warranty, the features and the specifications for each.
These aren't hard to find; if you can withstand using one ac in your RV, great!
For instance, with a single rooftop RV, one can typically draw 1400-1800W" with the compressor on.
In general, it's common for a "small flicker or surge" occurring when restarting an engine that hasn't been turned on for months(Technomadia.com, 2016) 5.
With power domestic equipment like televisions, computers, and other electrical appliances, a black-out can happen if you don't calculate the wattage or amperage use with that of your RV generator's maximum pull.
The right voltage max for your RV is critical to know 2.
Obstacles when searching for your RV generator
Here are the three things that can get in the way with your travel plan in an RV: maintenance, electrical storms, and other natural incidents.
You don't want to your generator to go "down and out" during a family vacation, or any vacation for that matter!
Therefore, make sure you know your facts: how long you are planning your trip? What are your RV's capabilities?
And what electrical gadgets or appliances will venture off with you?
There may need to be a "trade-off" day or hours in the day where you don't watch television or use the radio.
Everyone can go on a hike, bike, hunt or fish escapade outdoors.
Cool summers, warm winters with good RV generators
RV generators are the pinnacle component of a successful vacation. You want to have your ac cooling you and those traveling in the RV cool and comfortable.
That is, being cool in the summer while having a good heater during the wintertime.
All in all, besides sleeping, eating, or watching television in it, driving is one of the other important activities which benefit from a good RV generator.
The driver is not to drive without some cool air blowing in his/her face during a long road trip if desired 2.
Additionally, the vehicle's battery shouldn't withdraw too much, but you can check your battery, write it down and keep it in that journal labeled "RV generator,…etc."
You can keep track of what pulls what for a safe RV camp.
What size generator for travel trailer
This is an ideal generator size; in fact, it's the average size for a large RV with ac or two at rear and front of the RV.
When the generator has more than 2500W, it's a good size to run an RV's appliances. Although, you may need a higher Wattage one to also run your AC.
Here are the 3 main sizes for a RV generator:
These are the "correlatives with the size of the generator" needed 4.
– An air conditioner with 9,500 BTUs = Generator should reach 2,500 watts
– An air conditioner has 11,000 BTUs = Requires generator to operate with 3,500 watts.
– And lastly, an air conditioner has 13,500 BTUs = Air conditioner and wattage number of a generator, approximately 3,500.
Consequently, these descriptions regarding the certain components which help with keeping the generator in-tact, are emptying out the fuel when the generator will not be in use for months.
Thus, you want longevity and the generators for sale are considered the best inverter generators on the market.
Hence, for the money, the Honda RV generator series are the ones to keep your eyes on.
Best RV generator now
Some of the best RV generators today 4.
– Briggs & Stratton RV Generator
– Champion Power Equipment Dual Fuel RV Generator
– Westinghouse WGen7500 Portable RV Generator
– Honda RV Generator series
These four best RV generators which are on sale now will keep you safe during your trip.
They have all the features and standard specifications needed for a safe trip in your RV this season.
Finally, these descriptions have those certain components which help keep the generator in-tact.
It should serve as a reminder to emptying out the fuel tank when it isn't in use.
If the generator will not be in use for months, this would be a good idea for the RV's longevity.
The generators for sale are considered the best inverter generators on the market as well.
Besides, for the money, the Honda RV generators are the power equipment to keep your eyes on, as well as the other three listed.
Knowing what you need, what you want to prevent, and most of all a generator to rely on can be life changing, or better yet, life-saving!
References:
Technomadia.com, 2016. Big RV little generator downsizing… Retrieved on 8/3/18 from http://www.technomadia.com/2016/07/big-rv-little-generator-downsizing-to-a-2500w-propane-generator/
Related Article