Best Generator for Welding Overview
The best generator for welding or any other tasks should provide enough power.
Below are some of the Best generators for Welding
A-iPower SUA5000 5000 Watt Portable Generator Review
The A-iPower SUA5000 5000-Watt Portable Generator is a small gas-powered generator with a run-time of 6 hours when its 4-gallon tank is filled to compacity. Its built-in folding handle and rugged wheels make for easy transportation of the generator.
It is powered by a powerful 223 cc 7.5 HP HV 4 stroke engine that features a low oil alert light and low oil automatic shutdown to ensure the performance and durability of this machine for years to come.
The A-iPower SUA5000 5000-Watt Portable Generator also features four outlets of three different varieties and rubber covers for each.
The generator starts with 5000 Watts and has 4250 running watts to power tools and other appliances. It weighs approximately 117 pounds and comes with a 1-year guaranteed warranty from the manufacturer.
Pros
Easy to transport
Low oil alert light and automatic shutdown
Variety of outlets
Manufacturer warranty
Cons
Despite its small size, the A-iPower SUA5000 5000-Watt Portable Generator is a powerful, versatile generator with several useful features.
Its engine's low oil alert system provides peace of mind by automatically ensuring that the generator only operates at its peak. It's a powerful generator for its size and has a high wattage compared to other small generators on the market, making it a sound investment overall.
Briggs & Stratton 5000 Watt Portable Generator Review
The Briggs & Stratton 5000-Watt Portable Generator is a heavy-duty, fuel-efficient generator featuring a 7.5-gallon fuel tank and circuit breaker protection.
It features several types of outlets including four GFCI (Ground Fault Circuit Interrupter) protected outlets and two standard outlets, allowing for a wide variety of tools and appliances to be powered by this generator.
With the fuel tank filled to its max capacity of 7.5 gallons, the Briggs & Stratton 5000-Watt Portable Generator can run for up to twelve hours at 50% load. Weighing in at approximately 187 pounds, this generator features wheels for easier maneuverability and transport. It is a gas-powered generator.
Pros
Easy to maneuver
5000 Watts
Multiple outlets
Cons
The Briggs and Stratton 5000-Watt Portable Generator is a fuel-efficient generator with long runtime. Its design results in easy maneuvering and features multiple outlets, allowing for a wide range of different electronics to be connected to it.
Its portability makes it a multifaceted generator that can be used for home improvement projects, emergency power outages, and recreational outdoor activities. With its multiple features and few cons, the Briggs & Stratton 5000-Watt Portable Generator is a sound investment for a wide variety of uses.
With so many brands and models of generators in the market, you must be careful when buying a generator. One of the challenges you are likely to face is noise, which can cause disturbance to neighbors.
However, this is not the only feature to consider. Here are things to consider when looking for the best generator for welding:
Fuel
Most generators are fuelled with petrol or diesel. But there are others powered by liquid propane though it's considered too expensive for welding. Diesel is the cheapest option for welders.
Generator's weight and design
The design of a generator affects its weight, and the heavier the equipment, the bigger it is.
In the market, there are two types, including enclosed case and open frame types.
The open design is compact and lighter, while the enclosed version offers strong protection for the interior parts including the engine.
Portability
Welding jobs are sometimes given in different locations, and therefore, you should consider how portable the generator is.
Some generators come with the ability to mount it or place it on a truck for transport, especially for the big generators.
Noise Pollution
Most welding generators tend to be louder compared with other generators. If your location allows you to use a noisy generator without disturbing other people, go the most powerful without worrying about noise.
This is especially possible in remote areas. However, for urban areas, you must adhere to laws regarding noise pollution.
Accessories
After buying your generator, you will need additional accessories and other fixtures to ensure easy undertaking of various tasks.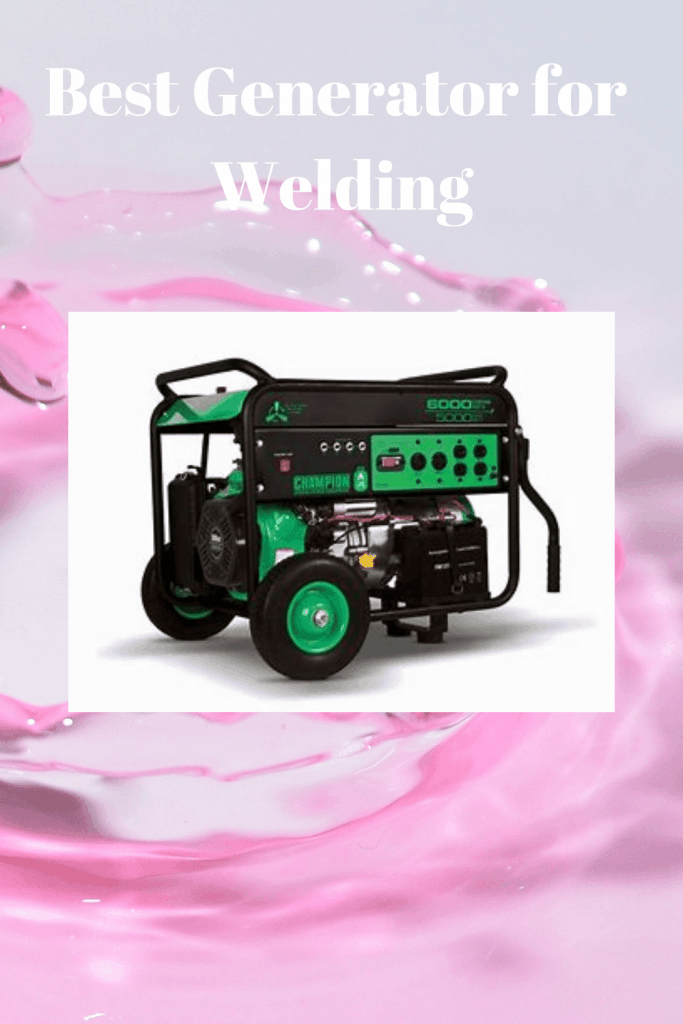 Some of these accessories include extension cables, electrode holders, remote control, spanner, and many others.
Can you weld with a generator?
You can weld with a generator as long as you got the right one for your work.
The generator's output is expressed in watts. Some generators are strong enough to weld and still power a couple of lights.
Besides, other generators can power more than one welder, depending on their wattage.
If you want to know the wattage of a generator, you should multiply amperage and voltage.
For example, a generator of 4800-watt power can give 40 amps at120 volts or 20 amps at 250V.
The best generators should handle a short output spike, which happens when a welder starts using the generator. It is usually between 25% and 30% higher compared to the running rate.
Having a generator using affordable fuel will make welding easier. Nothing disrupts your work like a generator that stops while you are welding. It is advisable you top up the fuel before you start working.
While it's possible to weld with a generator, make sure you have accessories such as air compressors and light fans.
They make welding with a generator easier and efficient. Choose the right size of generator because it gives you enough power and minimizes the negative impact on the weld and other tools you use.
How big of a generator to run a welder
A welding generator is different from an ordinary generator used for lighting and others. You need a generator that can work smoothly with a constant load. When you turn on the generator and switch on the welder there will be no load. But immediately the electrodes come into contact with the metal, the load moves to the maximum.
It is important to note that a welding machine has a big starting current. This is the reason you cannot use any generator. The best generator should have a large starting current.
Will a 5000 watt generator run a welder?
In various situations, it's more practical to run your welding equipment using a generator. However, there are some generators that won't even get your welder started, let alone run it. As far as running welding equipment on generator power is concerned, one of the most interesting questions is:
Will a 5000-watt generator run a welder?
A 5000-watt generator is ideal for running 120V welders since such welders draw less than 40 amps at startup.
In simple terms, a 5000-watt generator will power the average welding set up without any problem. If, however, you are using a 240V welding machine, you might want to use a generator that puts out more than 5000-watts for the best result.
Running wattage vs surge wattage
A generator does not produce the same wattage throughout its running cycles. When choosing the most ideal generator for your welding machine, you will want to determine whether it is rated using the surge wattage or the running wattage.
The running wattage is the number of watts that your generator is capable of producing consistently. This is different from the surge wattage, which is the highest wattage that a generator can produce briefly, especially when it starts to run.
Final thoughts,
5000W generators should run your standard welding equipment with ease, mainly because they have an outsized capacity compared to such equipment.
A 5000-watt generator can run a 120V welder for hours without ever having to redline, unlike with smaller output generators. As you pick a generator, however, remember to confirm whether it's rated using the running wattage or surge wattage.
Choosing the top welder generator
Fuel
Most generators run on gasoline, but there are others that use diesel and LPG. The type of fuel it uses doesn't affect its power but impacts the cost of running it. Diesel is the cheapest fuel while propane is the most expensive.
Fuel consumption
A big generator is likely to consume a lot of fuel. However, you should confirm according to the manufacturer's product description.
Type of power
Whether a generator is DC or AC, there is no difference. Just buy a generator that suits your welding power needs.
Calculating the Correct Generator Power for a Welding Generator
Some people buy a big generator that cannot run their welding activities because there is no information showing the equipment's power capacity. However, it is easy to calculate. The formula is easy. You simply multiply the highest current strength by arc voltage or efficiency of the welding inverter.
Find a Current Range Suitable For Various Metal Thicknesses
The thickness of the metal determines how much current is needed to weld it. The thicker it is, the more power is required. If you plan to use a generator to power your welding equipment, make sure the two can work together efficiently. Low current can sometimes induce an unstable arc, which the worst fear for welders.
A welding generator is the most efficient power source. You will not be affected by power outages. However, you must know how big a generator should be to run a welder. This portable power equipment can be used anywhere. Just shop carefully depending on areas where you are likely to use. This means considering other features such as noise level.
Conclusion.
You will find various great generators in the market. Just make sure you consider the above points when choosing one and your welding business will definitely move to the next level.
Related Articles
Check out Best Generator for Welding on Amazon