Best transfer switch for generator Overview
Power surges, outages, and rations are incessant interruptions to reliable power delivery. Finding a good generator to ameliorate the power issues is only half the job. You need a transfer switch to enhance the seamless load switch in emergency and normal situations.
There are numerous factors to consider for selecting the best transfer switch for generators. We run you through the essentials that help you make a better decision.
Before going transfer switch shopping, the initial step is to understand your electrical needs. Whether a home or a business, have an electrical engineer compute the total load.
If you have a generator above 5000 watts, you need a transfer switch not only to ensure an uninterruptible power supply but to guarantee safety. Portable generators almost always need transfer switches compared to standby generators.
At the minimum, you need transfer switches as a legal requirement.
There are two types of switches, manual and automatic. A home or business owner has to flip the lever in a manual switch, but the automatic switch transfers full generator power when there is a drop in the power line's voltage.
Depending on the type you choose, there are functional features you also need to consider.
What to look for when buying the best transfer switch for generators
Ø Accessories
Check whether the transfer switch you purchase has the whole installation device set. Power cords, connecting wires, and inbuilt or auxiliary junction box. Liaise with your electrician to determine what you need before purchasing. Most manufacturers include everything in the transfer switch, but it doesn't hurt to counter-check.
Ø Wattage
Always purchase a transfer switch that can accommodate slightly higher wattage than your generators. Typically the best transfer switches for generators support up to 8000 watts.
Ø UL/CUL Certifications
Double-check to ensure the certifications are up to date. You do not want power surges causing flare-ups in your building.
Ø Warranty
The best transfer switch for generators must have a warranty. Reputable transfer switch companies have up to 5-year warranties.
Ø Type of switch
You have two options, manual and automatic. We'll go ahead and say the manual switch is the best. It is inexpensive and imparts the same functionality save for automatic switching. However, if you have a higher budget, you can opt for the automatic switch.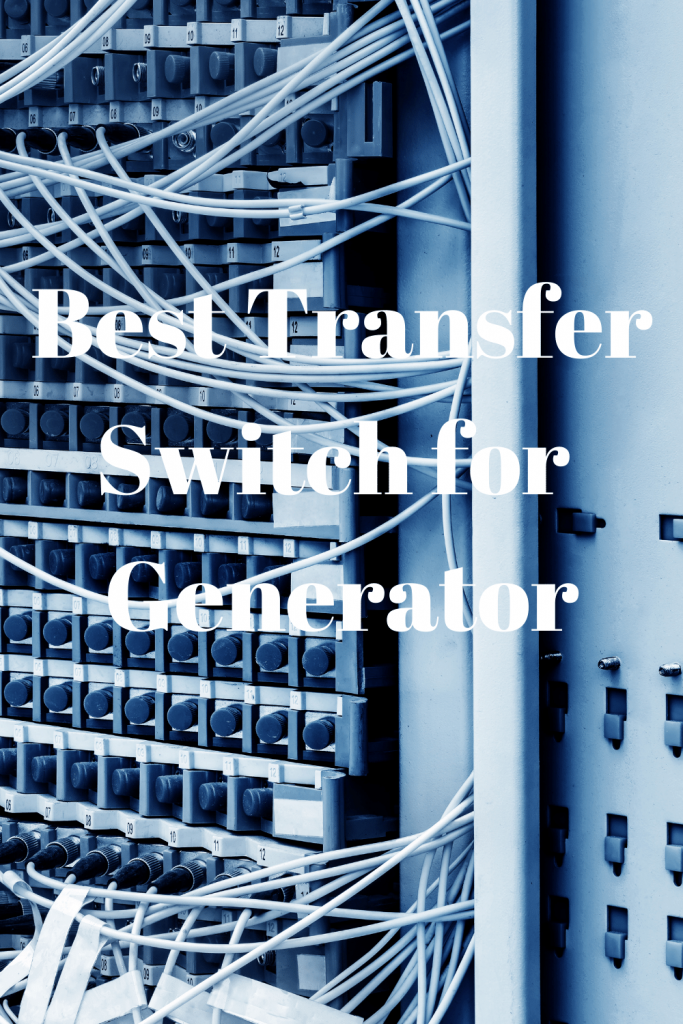 If you live in an area with frequent power outages, you most definitely need an automatic switch.
Best Switches in the Market
The best switch ensures an uninterruptible power supply and prevents back-feeding your utility line. Some of the best transfer switches for generators you can buy are:
Reliance Controls Corporation 31406CRK 30 Amp
Reliance Controls Pro/Tran 10-Circuit 30 Amp Generator Transfer Switch
Connecticut Electric EGS107501G2KIT EmerGen
Reliance Controls TF151W Easy/Tran Transfer Switch
Go Power! TS-30 30 Amp Automatic Transfer Switch
Below are some of the best transfer switch for generator
1. Reliance Controls 31410CRK Pro/Tran 10-Circuit 30 Amp Generator Transfer Switch Kit, Gray
Product Description
If you consider purchasing a transfer switch kit, the Reliance Controls 31410crk Pro/Tran 10-Circuit 30 Amp Generator Transfer Switch Kit, Gray, might be the perfect option.
It has been perfectly designed to allow you to easily conduct a portable generator transfer switch installation for your home or office, enabling you to use backup power safely on power outages. This excellent transfer switch supports a generator of up to 7500 watts and allows you to transfer each circuit separately.
The kit features an overall package of a 30Amp power inlet box, circuit breakers, toggle switches, conduit whip, wattmeter, power cord, and plug. The toggle switches protect the switch circuit with an inbuilt circuit breaker in generator mode.
The wattmeter lets you comfortably look at the amount of load the generator takes to ensure you don't cross the limit. The 18 inches conduit whip has clear red and black wires to connect to the transfer switch, which gives it an easy installation. The inlet box is ideal for direct and multi-wiring needs.
Keys Features
· A built-in junction box for easy hardwire installation
· Convenient light switch style toggles to switch between utility and generator power
· Well labeled circuit wires for a quicker load center connection
· Wattmeters to prevent overloading the generator
· 18-inch flexible conduit whip for easy connection
· Works with generators with a maximum of 7,500 watts output
Pros
· Easy to follow the instruction manual and install
· Sturdy cabinet construction and design
· Convenient to use both outdoor and indoors
· It has a 5-year manufacturer warranty
· It comes with a strong Tran/Pro transfer switch
· Supports up to 7500 watts
· Has overload prevention mechanism
Cons
· The conduit can be relatively hard to bend
Conclusion
Manual transfer switches can be costly, but here is an affordable and quality choice from Reliance Controls. With a 5-year warranty, Reliance Controls 31410crk Pro/Tran 10-Circuit switch kit guarantees you a superior and high-quality product that will solve your power outage woes.
2. Connecticut Electric EGS107501G2KIT EmerGen EGS107501G2 Manual Transfer Switch Kit 30 Amp, 10-Circui
Product Description
Are you having problems with power outages? Connecticut Electric EGS107501G2KIT EmerGen EGS107501G2 Manual Transfer Switch Kit 30 Amp, 10-Circuit has made emergency power easy.
With this kit, you will be able to set up your home ready for any power outage by using it to connect your existing panel to a power generator. It has been designed specifically for emergency generators with up to 30-amp output.
It offers the capability of 2 pole circuits and 240 volts circuits, making it excellent for application on water sump pumps. You also don't have to worry about its compatibility because it's compatible with all types of load centers.
EmerGen EG107501 outperforms its competitors when it comes to an indoor-outdoor compatible solution. The kit features a NEMA 3R Rainproof power inlet box that ensures the connections are safe while providing you with the freedom of selecting a versatile mounting area. For safety purposes, the kit features a power surge protection that ensures no possibility of a power back feeding to your generator or utility line when the power returns.
Keys Features
· Highly compatible with all residential load centers
· Features a power surge protection
· Convenient for use in portable generators with up to 30-amp output
· One-year product warranty
· Max running generator watts;7500
Pros
· It can be used both indoors and outdoors
· Ability to transfer high voltage
· Offers the safest way of connecting to a portable generator
· It's cheaper compared to the automatic transfer switch
· Easy to set up
· Easy to load control
Cons
· You need to manually switch from the grid to the generator in case of a power outage to power your home.
Conclusion
With this Connecticut Electric Manufacturing transfer switch, you will be ready for any emergency. You can easily set up the transfer switch along with your existing load center without the need to rewire the entire section of your home. You can rest assured that you are installing a quality product that keeps you ready for any emergency.
3. Reliance Controls Corporation 31406CRK 30 Amp 6-circuit Pro/Tran Transfer Switch Kit for Generators
The search for a reliable generator is equally important as selecting the transfer switch. Every homeowner and business needs a generator switch that blends with the paramount and auxiliary power sources with minimal ease. Reliance Controls Corporation 31406CRK 30 Amp 6-circuit Pro/Tran Transfer Switch Kit for Generators is a complete switch kit that solves the back feeding issues of many backup power systems.
The manufacturers, Reliance Controls design and functionality bridge the gap between power systems' sustainability and reliability. Here's what the complete kit features:
· On-off-on operation mode
· 30Amp current rating
· 250 Volts alternating current
· Closed contact type
· Plug-in connector type
· Toggle switch type
· Alloy steel casing
· Surface mount mounting type.
All the above features pack into the 4.5 by 7 by 7.5 inches switch generator. The Pro Tran Transfer Switch enables your lines to transmit the generator's full power without interruptions. There's more to the portable switch than its well-designed casing and easy-to-use interface.
Pros
Ø An extra 20 A plug end to prevent generator overload.
Ø Clear labeled wires for easy-to-connect load center. Most users report no difficulty in self-installation.
Ø The toggle switch has large position allowances that prevent any confusion. The calibrated icons show each position when you engage the switch.
Ø A dedicated watt meter monitors power efficiency and prevents generator overload, thereby protecting your generator.
Cons
Ø Minimal power delay before the backup power kicks in.
Ø The built-in junction box may not be compatible with outdated junction boxes.
Reliance controls 31406CRK 30 Amp 6-circuit Pro/Tran Transfer Switch is everything you need to seamlessly interchange power between the utility and backup generator without ever worrying about back feeding.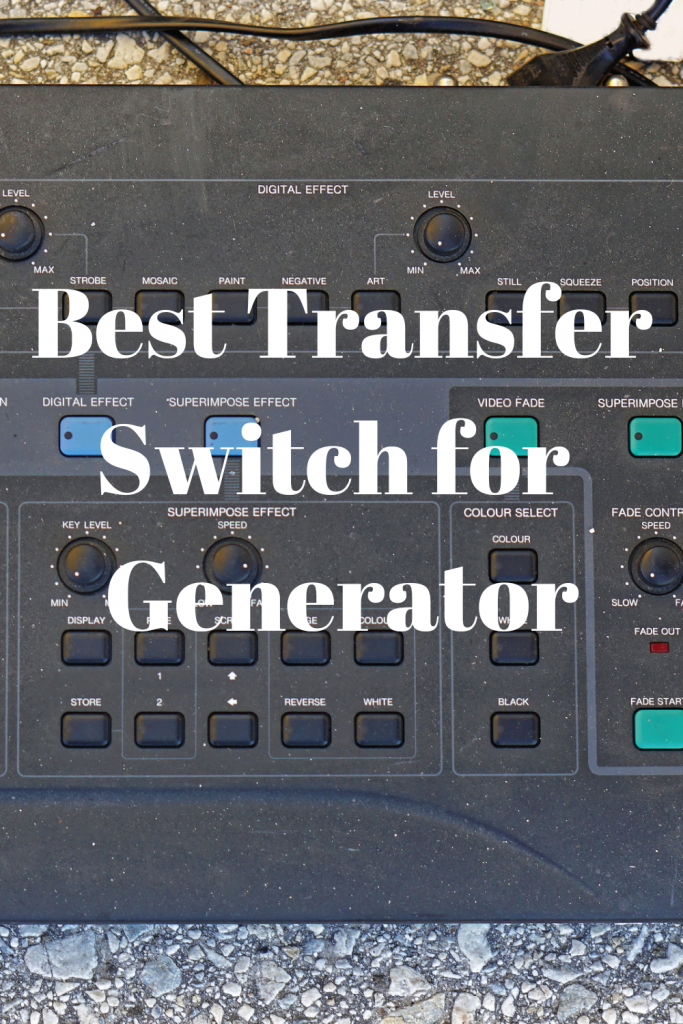 The transfer switch is the ideal kit for emergencies. Users rate it 4.75 out of 5 stars for functionality and sustainability. Get this portable all-in-one electrical system at Amazon for $299.99 and a 5-year warranty. Read about connecting generator without transfer switch here.