Champion Generators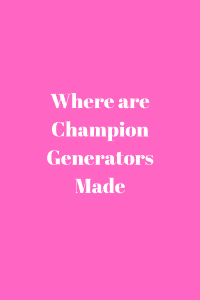 Champion generators have become a name that is always mentioned in the household over the past years. Most people are wonder to know the answer to this question, Where are Champion Generators Made? By the end of this blog post, you get the answer.
It seems like the fame of this brand is not going to fade away from the people's spotlight.
However, just as when the popularity of the brand increases, the number of curiosity that sparks within the minds of the people also increases, and hence the question
This is one of the questions that seems to be always asked around by people.
Where are Champion Generators Made?
Champion Generators are made in China but there are designed engineers' Americans in the USA. The champion provides 3 years warranty on most of their generators such as portable generators, inverters.
Therefore, you can trust the brand. They also provide support for their products.
Are champion generators any good?
Well, Yes. After the following discussion on champion generators, you will understand their goodness.
This company is the best in generating power equipment. It has decades of dependable and experienced customer care services. The company's central role is to carry out innovations.
The company also fulfills their client's needs by consistent provision of new products self-innovated and enhancements. Also, champion engineers can provide future technologies today.
Features of Champion Generator
Champion's produces work, home, and play excellent products. They have a legendary performance. Champion products are engineered and designed in North America, the US, and worldwide.
Champion performs over two point five million generators commonly sold in the United States. The champion company has outstanding customer care services.
The black and yellow champion generator designs usually outdo the other brands. This brand is also the best-known dual-fuel engine energy producer.
Most of the dual-fuel engines run both liquid propane and gasoline. In some cases, they can run on natural gas and diesel.
To close this part, the champion brand gives you a flexible running cost. These engines run for long periods before they need refueling.
Champion Generator Reviews
Many people opt to use generators owing to the ability to control their power supply at home and for their outdoor needs.
The champion generator has become a choice for many users due to its flexibility in fitting different power requirements.
The choice for the ideal model of the generator would be based on your understanding of the essential attributes of the specific generator to examine how they correlate with your specific preferences.
Description
The champion generator fits the various needs of homes and RV with its versatile power solutions.
The champion has a wide range of wattage generators, They are suitable for most needs such as home, camping, power outages, job site.
Brief it only depends on what you would experience with this machine.
It is easy to start with an electric button that comes with a battery. Its foldable handle and fixed wheels make mobility an easy task.
Key Features
Operates on fuel, gas, and propane.
Efficient electric start.
Multiple outlet options.
Intelligence for monitor performance.
To power your wide range of appliances at home during an outage or on your camper, a champion generator would be fit for the job it depends on what you pick.
Check out best Champion Generators on Amazon
Image
Name
Price

Key
Features
Type
Power
(Watts)
Carb.
Approved
Champion 2000
Check Price Here
Stackable Portable Inverter Generator

2000
Champion 3500
Read Full Review
Champion RV Ready Portable Generator (EPA)
3500
Champion 3400
Check Availability
Dual Fuel RV Ready Portable Inverter Generator with Electric Start

3400
Champion 3500
Read Full Review
Dual Fuel RV Ready Portable Generator

3500
Champion 3800
Check Price Here
Dual Fuel RV Ready Portable Generator with Electric Start

3800
Champion Generator Spare Parts
Maintenance is paramount did your generator to have it in ideal condition for emergency or regular use.
Many components of the championship generator would require to be changed over time for enhanced performance.
Getting the right champion generator parts is vital as there are many options in the market designed for various brands available in the market.
Champion Generator Carburetor Parts
Check for ideal part size.
Quality is key.
Cost should be competitive.
The package should include gasket and spark plugs.
Champion Generator Recoil Starter
The level of stretch should be right.
Consider durability for this part
The price needs to be right.
Fitness for your generator model is key.
Ensure that you get the coil starter and mounting bolts in the package you are going to buy.
To sum up this section, Good knowledge of your champion generator model is key to acquiring the right parts. You could find it appropriate to get professional aid in making your buying decision for appropriate parts for your generator.
Champion 3800-Watt Dual Fuel RV Portable Generator with Electric Start
The Champion 3800 Watt is a convenient generator in emergencies. The generators are portable, and you can use it to charge most electrical appliances. Let's find out more.
Key Features
The Generator runs on a 224cc champion engine, with a push and electric start. It has a 4-stroke engine type with a wheel diameter of 8 inches.
The Generator has 4750 starting watts and can run for nine hours, at 3800, when full gasoline tank.
On propane, it has 4750 starting watts and 3420 running watts. It only goes up to 10.5 hours on a 20-pound propane tank.
Champion 3800 Watt has two 120V 20A outlets. The gasoline running amps and propane running amps are 120V-31.7A, and 120V-28.5A respectively.
Propane and gasoline starting engine amps are 120V-35.6A and 120V-120V-39.6A, respectively.
Pros and Cons
The engine is highly efficient since it can run on either gas or propane. Champion 3800 Watt comes with a three-year warranty and free full technical support services.
Its outlets are secured by volt guards to protect connected appliances. It also has an internal charger, charging the battery as the engine runs.
Champion 800 watt provides users with convenience no matter where one is.
Its running watts can power most household electronics.
Acquire one to save you during blackouts and outdoor activities.
In a country such as America, people do believe that most of the products made in China are tend to be cheap and do not have a high quality because a lot of fake products that were made in China have spread across the markets in America.
Consequently, people start to relate their current belief that products that are made in China are bad and therefore we should not buy them with their decision in buying every product in the market and that includes a generator.
It is true that some of the products that are made in China do not have good quality and some of them are fake, but the real question is that are all of them are bad or is there a small percentage of the products that are made in China that have the same quality as the other branded products which are currently being offered at a competitive price?
After thorough investigations have been made, I found out that some of the products that are made in China are bad.
However, there are also some products that are made in China that are just as good as the other branded products and the difference is that the good products that are made in China are being offered at a pretty lower price with the same product quality.
Basically, the science, as well as the technological research that lies behind the Champion generators, were conceptualized in the US.
So the ones that are going to be responsible for the sciences and research of the Champion generator will the American scientists.
The Champion Power Equipment also has a research facility which is located in Milwaukee, Wisconsin and this is the place where the American scientists, as well as the technicians, work together effectively for one main purpose and that is to enhance the experience of the consumer by providing a high-quality generator.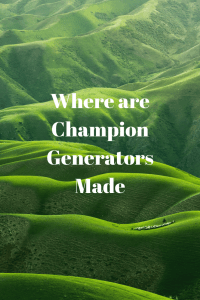 The concept of the Champion generator which originates from the US has set Champion apart from the other cheap Chinese machines.
It is also impossible for the Chinese to copycat the Champion generator to produce a generator that has exactly the same product quality and performance.
The next thing that comes in mind is that where do the Champion generators be assembled together?
Although some of the Champion generators are manufactured in China, the Champion Power Equipment company gave them a set of strict conditions that they need to follow in order to assemble the products.
Apart from that, they also need to maintain a consistent record of the manufacturing of a high-quality generator.
The reason that lies behind the whole made in china thing is that the company gets the design as well as the process of conceptualizing the products done in the USA but send some of the manufacturing processes to China is because the company wanted to save some manufacturing costs.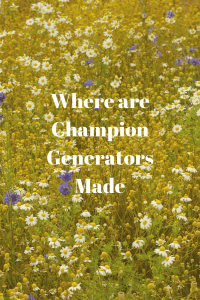 Therefore, that is the reason why they send some of the generators to be manufactured in China as by doing this the company will be able to provide high-quality generators offered at a low price not because the quality of the generator is bad but because the company want to help the consumer to get the best price that they can possibly get.
So there you have it, I really hope that this article would clear any misconceptions and stereotypes that products that are made in China are bad.
Some of the products that are made in China are good due to the fact that the design, as well as the concepts that lie behind the products, are made in the USA and only the manufacturing process is made in China.
So, it's safe to say that Champion generators are basically American generators that have a high quality so you don't have to worry about it anymore.
Champion generator review
If you have ever been without energy during a winter storm, you know how vital a champion generator can be.
Nobody wants to do without the amenities that electricity can provide, but, as a rule, when the lights go out, it's warm.
Spending just a few hours in a cold house is more than inconvenient, sometimes it can be fatal.
With a company like Champion Power Equipment that produces quality products, you don't have to spend even one hour without the energy needed to continue living in a comfortable and safe home.
For all the years of production, there have never been reviews of Champion generators, which means a lot in this highly competitive industry.
While most manufacturers are working on tight deadlines to release their products for sale before their competitors can do the same or to release new, more advanced models, Champion will not compromise on quality for more profit.
It may be sufficient for some companies to release their equipment before conducting it through rigorous quality checks and safety checks, but this is not Champion's philosophy.
This is the reason you hear so much about recalling other brands and nothing like that about the Champion.
It is quality and safety control, as well as quality control throughout the entire design and manufacturing process that allows Champion generators to remain at the top of the line of excellent generators and exclude recall lines.
If you have ever purchased a product that was recalled or did not work correctly, you understand the value of excellent customer service.
Sometimes customer service can be an experience in itself with rounds and sabotage that make you believe that they do not want to do everything right.
This is not the case with Champion, and customer service receives as good reviews as the products themselves.
If it's time to replace your old worn generator, or if you are looking for your very first one, be sure to check out Champion Power Equipment with a wide range of alternators on offer.
You will surely find that they meet their well-deserved records of excellence, and more importantly, you will get one of the best cars of its kind when you buy a Champion generator.
Check out best Champion Generators on Amazon
I hope that you get to benefit from some new information that you get by reading this article and would like to thank you for spending your valuable time reading my article.
Champion 8.5-kW Home Standby Generator
By Champion Power Equipment
This standby generator has an 8500-watt capacity. It weighs just about 460 pounds. This item measures 52.4 by 33.5 by 32.1 inches and its voltage capacity is about 120 V.
This is an automatic generator that has eight available circuits which will ensure that you have a continuous power supply during an outage.
This generator is designed in a way that produces reasonable noise while running making it ideal for residential use. This is achieved through the sound dampening technology applied while making it. It has a low-tone muffler which ensures that its noise level is 59.5dBA which is friendly.
This generator is reliable as it has a system that can be started by a 24-volt power range and can operate in extremely hot conditions (anything between 22 to about 104 degrees Fahrenheit).
It will not require any warming kit and this generator will usually perform a self-diagnostic test each every week. This product being from Champion Support is accorded a ten-year limited warranty and lifetime technical support all free.
Champion generator vs Duramax generator
With the champion generator and Duramax generator having desirable features, we seek to highlight their differences and similarities. Let's read on!
Feature comparison
Both the Champion and Duromax generator are air-cooled. At 50% fuel tank, the Duromax generator can run for eight hours while the Champion generator runs for twelve hours.
The Champion generator has 3500W rated, and a maximum of 4000W with a single 12V output, whereas the Duromax generator has a 4400w power output.
Both generators have a recoil starter, but the Duromax has an electric starter. Both generators have a built-in voltmeter, batter, a low oil sensor, and a circuit breaker to protect it from overloading.
Portability comparison
The Duromax generator is more compact than the Champion generator. Both generators have a double handle making them easily portable.
The Duromax is lighter,20 pounds, than the Champion generator, 106 pounds, and both have wheel kits.
Pros and Cons
The Duromax generator requires a start-up time of about half or an hour.
The Champion generator can't power an entire house due to problems encountered starting it up with open circuit contacts.
Both generators are quiet and provide steady currents for most electrical appliances during emergencies.
Champion generator vs Predator
Written by: gborde
Champion generator vs Predator
Those two products are portable generators that require an external resource to work. They basically work the same way, but they do have some differences.
They are easy to use and if you have trouble using them, you will find lots of tutorials on the internet.
You can find a Champion generator for around five hundred dollars. It is less expensive than the Predator generator, that you usually have to pay more.
If you are looking for the cheapest option, the Champion 3800-Watt Dual Fuel Generator is a great option. It will give you a great power supply. It is not a very durable option tho.
The 3500 Watt Super Quiet Inverter Generator from Predator is a very nice option if you look for quietness.
For less than a thousand dollars, it will grant you a considerable power supply while staying quiet.
To choose the best generator for you, think about how you will use the product, and fix priorities.
Champion Generator vs Westinghouse
Generators can help make living away from the main power grid comfortable. Champion and Westinghouse generators have both been in the market for quite some time. Below, we evaluate the two:
Champion vs. Westinghouse differences
Champion generator
Has an economy model to help save power
Can be remotely operated
Has wheels for enhanced portability
Westinghouse
Has an LED display
Lightweight
The similarity between champion generator vs. Westinghouse
Both generators feature plug and play portable power.
Pros and cons
Champion
Pros
Lightweight and has an open frame design
Hybrid
Affordable
Parallel capabilities
Long run time
Cons
Not compact
Relatively loud
Westinghouse
Pros
Silent operation. About 2DBA when running
Comes in various wattages
The 'DF' WGen Models can run on either diesel or propane
Con
Has a weak electric starter
Generators are great machines that help provide power when and where needed. It is vital to consider a set's specifications when planning to buy one to ensure it is suited to your particular needs.
Champion Generator Reviews
For many years, the Champion brand of power equipment has distinguished itself in the eyes of many.
First of all, one of the main components of this brand would have to be its top-notch hybrid generators, which are also known as dual-fuel generators.
However, this brand is also known as a company that does not compromise on customer service.
Even though this company was only recently established in 2003, it has developed a solid reputation for quality.
Moreover, there are two main types of champion generators: the inverter version and the portable version.
Here are some of the best examples from each:
Champion 4000-Watt Digital Hybrid
This is one of Champion's best inverter hybrid offerings, and here are some of the pros and cons of it: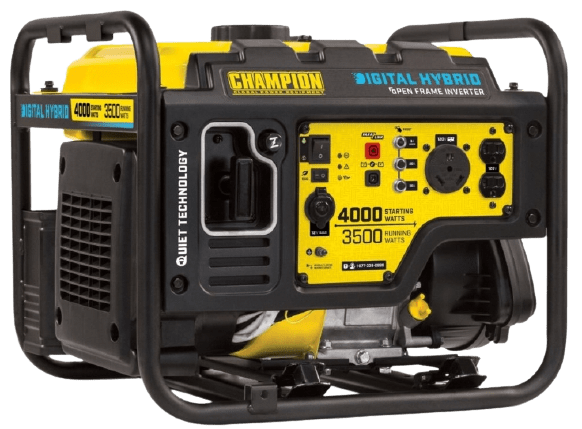 Pros
Lightweight and open design


Affordable 


Runs for a long period of time 


Cost-effective
Cons
A bit bulkier than other inverters


Louder than most
Champion 7500 Dual Fuel Portable Generator with Electric Starting Capabilities
This portable generator is basically ready out of the box, and it has the following advantages and disadvantages:
Pros
High capacity for the price


Hybrid capabilities 
Cons
Loud model 


Possesses only surge watts, and this might turn off those who want continuous power
Of course, these are just a few of the Champion generators on the market today. Remember that it always pays to comparison shop so that you will find the best one for your needs!
Related Articles