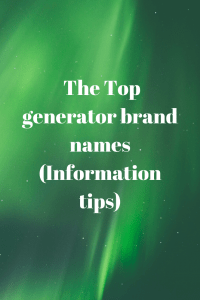 They are many different brand names generator on the market. You may wonder which one should you buy?
Generators are great investments and equipment that are part of our daily lives. Other than performing basic jobs, they save the day in emergency situations.
Due to these reasons, people prefer well-established brands, because they are reliable, spare parts are easily available and they have clear warranties.
Today, there are a lot of generators out there. So, which manufacturers are trustworthy? Which brand is the best? which one is reliable?
The answer to these questions vary. some brands are good in certain aspects, while others score better in their designs.
This only makes difficult to compare manufacturers altogether. For one to have a better comparison, you will have to look at specific brands and models. Here are some of the top generator brand names.
These generators are a subsidiary a the big heavy machinery player, known as Caterpillar. Their niche is mainly industrial and commercial sector. For this reason, the majority of their generators are not portable.
Being in the commercial sector, their customer support is extensive. Their experts are readily available to ensure businesses operate smoothly in case of a breakdown. These generators are specially designed for heavy-duty. They are expensive.
However, CAT also manufactures portable generators(the CAT RP Series whose watts range from 1800 watts to 12000 watts)
Brand reliability and recognition make customers feel comfortable and opt for it. This is what made Honda generators to penetrate the market.
Honda is famous for good quality cars and motorbikes, but they also manufacture electronics including generators. One of their top-rated models is the Honda EU2200i.
Honda portable generators are suitable for camping, parties, and races. For homes, it provides a reliable back up generators. Honda generators are well known for being silent and produce consistent output.
Moreover, Honda generators are some of the most popular in the world.
Not surprisingly, Honda Motor Co., Ltd. is best known for creating premium quality innovative engines, Honda generator technology worldwide has proven to produce the best combination of compact, lightweight, fuel-efficient and most portable generators
Hyundai
If the quality is your top concern and price is not a big issue. Then Hyundai is the brand to go for. On top of quality, Hyundai is a reliable player in the market.
Hyundai manufactures a wide range of generators. Different models, serve different purposes. some are ideal for home emergency, others a specially designed for heavy-duty business backups
one advantage of Hyundai is that they provide different types of fuel types, depending on the client's interest i.e petrol, LPG, diesel, and even gasoline. If you come from an area where certain fuel is limited, then Hyundai is your brand.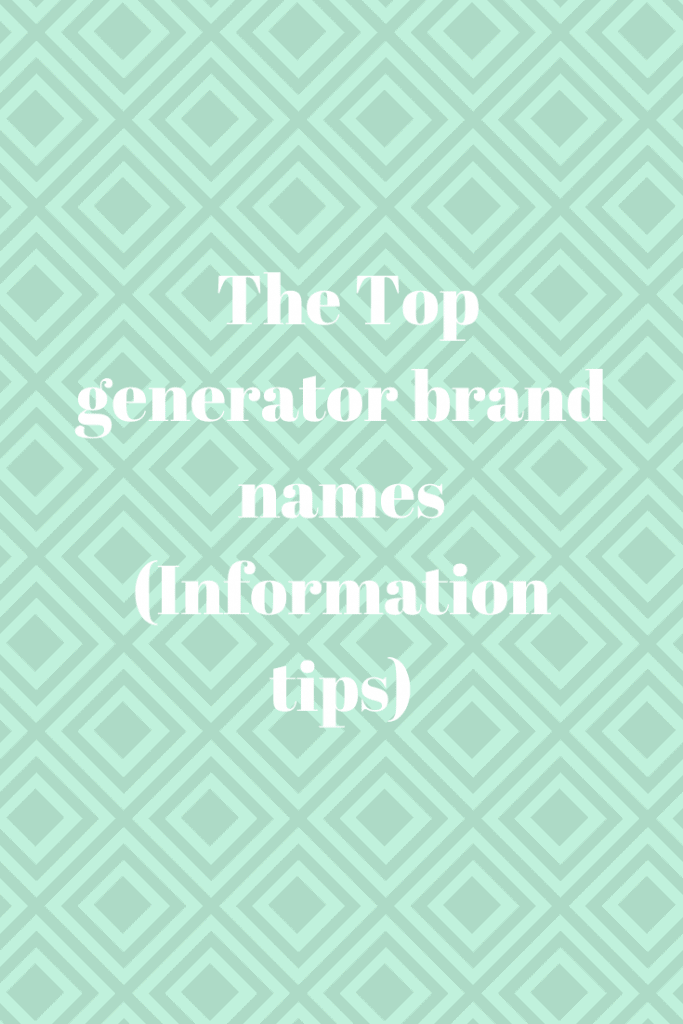 This is a Japanese brand. Ryobi manufactures a wide range of electronics and is well known for its powerful equipment.
They have a range of generators. This brand is versatile and is suitable for people who want any type of generator.
Other than Honda, this brand is famously known as a motor vehicle manufacturer.
But they also produce interesting generator designs. its renown model is the EF2000iS, which has two handles to ease portability.
So, those are some of the generator brands you will see in most shops.
Conduct extensive research before settling on a brand. Know its durability and fuel consumption.
Don't buy your generator based on the brand name alone. Check out Best Portable Solar Generator on Amazon
Moreover, Yamaha generators are a leader among generators manufacturers.
They offer a wide range of products that suit almost every lifestyle, occasion and needs. They have small portable generators for uses such as camping and travel.
They produce slightly larger models that can generate enough energy to power the house for several hours on a single gas tank.
Briggs and Stratton generators are designed with the same level of quality, durability, and operational guarantee and have one of the largest service networks with more than thirty thousand authorized service dealers around the world.
Suffice it to say; If you really want to outpace backup power, then consider Briggs and Stratton generators
Honeywell
Honeywell is a brand that has been globally recognized for many years: a brand that's defined by quality and efficiency.
Honeywell produces a wide range of portable home generators. To be precise, they present 12 different models. Each model is designed for specific uses, so whatever your needs, you should find a model that suits you.
The product creators provided by Honeywell are very easy to use, so they are easy to operate, not to mention Honeywell offers 24-hour support and you can find out why many Honeywell portable generators are preferred.
Westinghouse is one of the most respected and oldest companies in the United States, offering all types of household appliances.
Westinghouse's portable generators are among the best on the market today, demonstrating that the company's policy of producing the best original electrical equipment is not just a cliché.
Champion generators have become a name that is always mentioned in the household over the past years. Champion provides many powerful generators at a cheap price.
Duromax is a powerful company that is more than just a brand. They manufacturer a variety of products such as portable generators, water pumps, engines, and pressure washers.
Generac is a well-known company that is based in the USA. They are building generators for residential, commercial, and recreational vehicles. They produce a variety of products such as portable generators, transfer switches, water-cooled generators, air-cooled generators, maintenance kits, and replacement parts.
Predator Generators are made by Harbor Freight Tools company, the company a large variety of products. Their generators have usually a large fuel tank for longer run time. They have many heavy-duty generators.
ETQ generators are made to supply you with electric power in the most effective way. Their useful generators are created with exceptional technology to supply you with first-rate electricity and also to survive longer.
Kohler generator can benefit you during the warmer part of the year, thanks to utility breakdowns, equipment failure, summer storms, and inexperienced construction workers. Their generators are usually heavy-duty and standby generators.
Sportsman Generators come in many different types of generators, you might desire including dual-fuel, LP gas, inverter gas, and even tri-fuel. They made generators for home, job sites, and more.
Conclusion
Most people know that generators supply energy when other energy sources fail, but most do not fully understand the generator market.
Every time, homeowners buy generators for home use, without realizing that they are making one or more of these fatal errors.
To pay, get the wrong size generator, buy a cheap generator, get a noisy generator, or end up with a generator that requires a lot of maintenance which brand generator is the best.