What you need to consider when operating your generator
Power cuts can have negative or even threatening consequences in many situations.
For this emergency, mobile power generators often offer life-saving benefits.
With the small practical helpers, they can safely supply necessary electrical devices such as portable heating, water pumps, refrigerators and lighting with electricity.
However, using a portable generator can sometimes be very dangerous. Safety precautions must be taken when using mobile power generators.
But many people buy an electricity generator without knowing the risks.
We give you a detailed guide about safety precautions when operating portable power generators. Of course, all safety tips also apply to all generators.
Avoid carbon monoxide poisoning
For example, while you always have to hope to notice a defect quickly enough in a furnace, you can avoid carbon monoxide poisoning by a mobile power generator with just a few precautions:
• Never use a power generator in closed rooms. Not even in the garage, in the basement or in the gazebo. Fans, open doors, garage doors or windows do not provide enough fresh air!
• Only use your generator outdoors.
• Position the generator so that exhaust gases cannot enter the room or building through windows, doors and other openings.
• Also, use a battery-powered carbon monoxide indicator.
• It monitors the pollution in the vicinity of the generator.
safety tips for generator use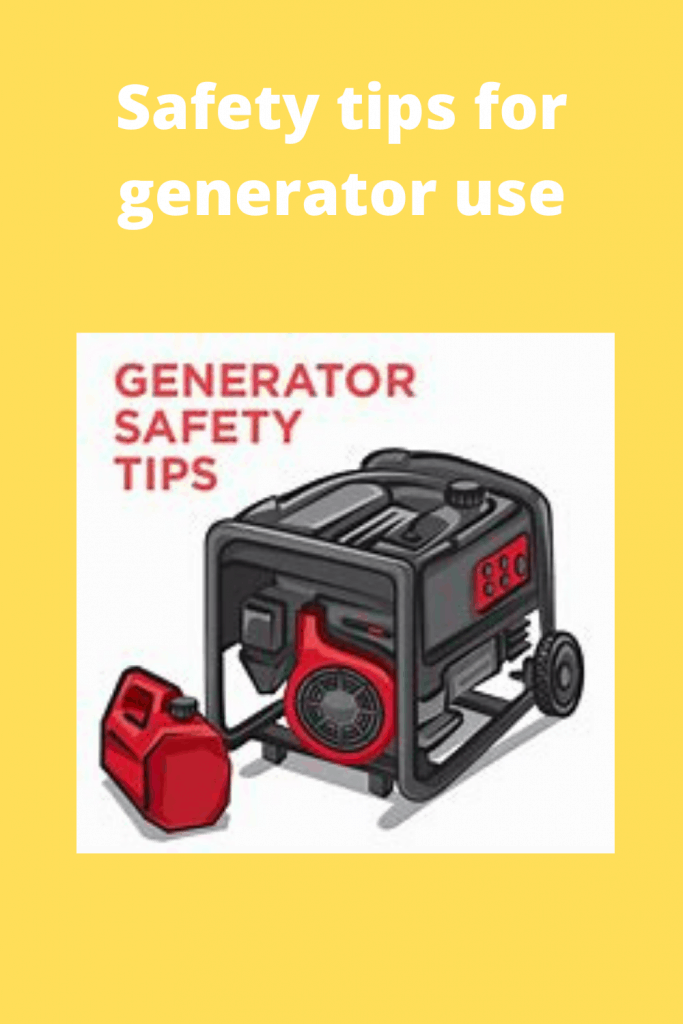 • Never use your portable power generator in wet conditions.
The generators produce powerful voltage, which can be dangerous when wet.
Protect your generator from contact with rain, snow or other moisture, for example with the appropriate covers for power generator for your devices.
• Do not use your generator in sandy or dusty places.
The generator can be damaged and become a source of danger if sand enters the device through the air intakes.
• Protect your power generator from overload.
• Fuel and fuel vapors are highly flammable. You should, therefore, let the generator's motor cool down before refueling.
• Always use fresh gasoline. However, the CO emissions of power generators are not the only thing to watch out for.
Other precautions must also be put in place when operating a mobile power generator to protect yourself or others from injury.
• Store the fuel in a canister that is suitable for storage and well labeled as such.
Store the cartridge outside the living area.
• Don't forget to fill in a fuel stabilizer if you don't need the generator for a long time.
• Maintain your mobile generator according to the manufacturer's maintenance schedule to ensure the necessary safety.
• Never operate the generator near flammable materials.
• If you need to use an extension cord, make sure that it is a grounded cord that is suitable for the application.
• Check the cables for cuts and tears. Also, check the connector for functionality.
• Always unwind extension cables completely because coiled cables can get extremely hot.
• Never connect your power generator directly to your home power supply.
If you want to connect your power generator to the domestic power supply, have a qualified electrician install a standardized transfer switch.
Note: Read carefully the manual's instructions of your generator and ask the help from an expert if you are not sure.
You can also read your generators' manuals for more safety tips. You can find the most reputable generator brands' manuals here.