What Can I Run With A 4000 Watt Generator Overview
A 4000 Watt Generator can Run a 6 Incandescent Lights, 1 Air Conditioner (10,000 BTU), 1 Furnace Fan, gas or fuel oil, 1 computer, and 1 Monitor (LCD style).
This will give a total of 3340 of starting watts and a total of 2440 of running watts which are less than 4000 watts. This is just one example, you can add or remove some appliances, you only have to make sure that the total starting wattage is than 4000 watts. You can use our free tool to calculate the wattage that you need.
Modern 4000 watt generators today can successfully run many household appliances, but they may not be able to handle an overload of power.
What Will A 4000 Watt Generator Run ?
If you're planning to use your generator for home and office use, you might be wondering, "What can I run with a four thousand watt generator?" Before buying a generator, you should know how much power each appliance will use.
To figure out the power requirements of each appliance, you need to find the running and starting watts for each appliance.
Then, you can calculate the total wattage needed for each appliance.
There are many inexpensive, quality 4000 watt generators on the market to purchase that come in different brands and designs to purchase.
Quality 4000 watt generators are a great go-to for certain situations such as a major power outage or a budget camping trip.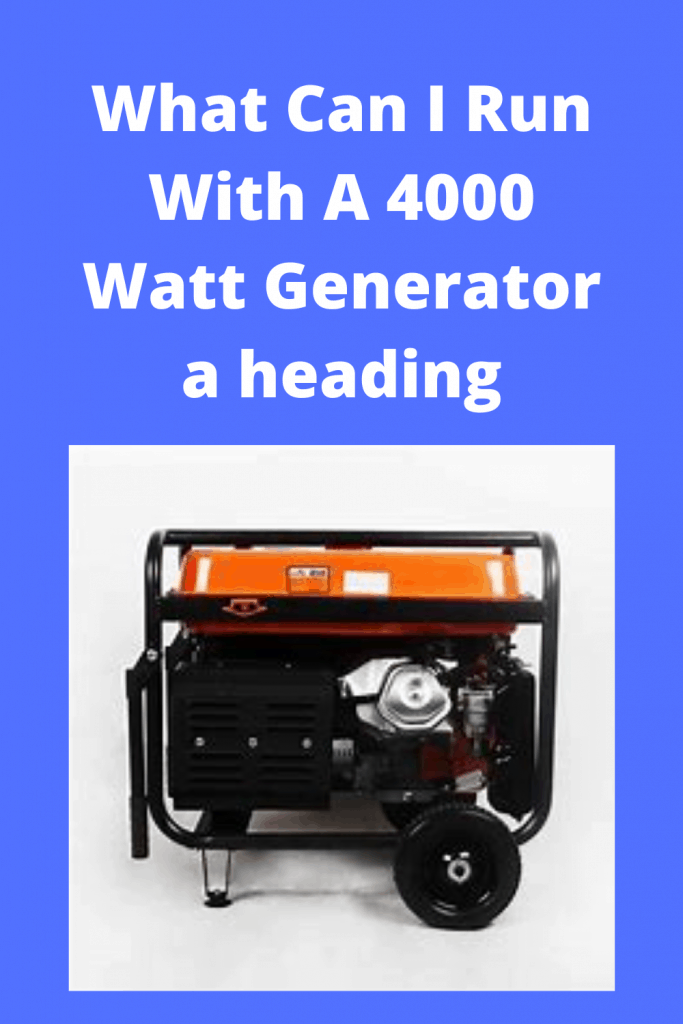 What will a 4000 watt generator run depends on several factors.
It can depend on the type of appliances you need to run, to what brand of generator you purchase. Check out the best 4000-watt generator on Amazon
Whether you need good power to run your household appliances or just need some power to recharge your electronics while on a camping trip, high-powered 4000 watt generators are definitely able to help you out with both.
What will a 4000 watt generator run depends on several things.
It can depend on the quality of the generator you have purchased, the size of the appliances you are trying to power up, or the different types of appliances you are trying to run.
Below is a list of some of the essential household appliances good 4000 watt generators can run:
Many Household Lights
General Fans
Some Refrigerators
A Household Waterpump
Some RV's
How Long Will a 4000-Watt Generator Run?
How long will a 4000-watt generator run? The answer depends on your appliance requirements. Most household appliances are powered by a 4000-watt unit. It can run several appliances at once, such as a refrigerator, stove, and air conditioner. However, a hot water heater will not be able to run on a 4000-watt unit. A generator with a 5000-watt capacity cannot operate these devices.
What Situations Are 4000 Watt Generators Good For?
These types of generators are great for extra power at tailgates, job site projects, and even home back-up power.
Many 4000 watt generators also meet quality standards and come with great features too.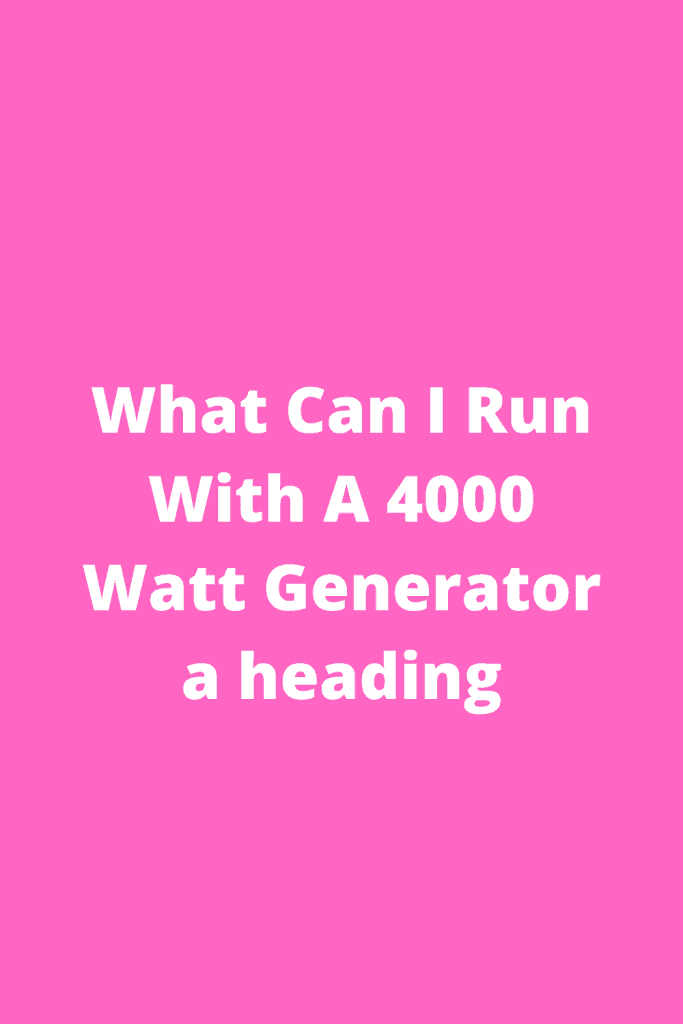 Along with many 4000 watt generators coming equipped with 2 or 3-year warranties, many are very easy to start and maintain.
Several 4000 watt generators are also lightweight and operate smoothly without making too much sound.
CONCLUSION
Many 4000 watt generators provide clean and balanced power without producing too much sound. Check out best 4000-watt generator on Amazon
They are easy to maintain and are a safe choice when powering up sensitive electronic devices and many essential household appliances.
Many 3000 to 4000-watt generators can cost between $400.00 to $2000.00 dollars.