What Will a 1000 watt Generator Run?
Are you a fan of camping or live in an area that experiences heavy storms? Getting a generator is the only solution to help you deal with the frequent power outage.
While many generators have different specifications, you need to know what types of tools and appliances a 1000W generator can run.
Here is what you need to know about a generator with this wattage. Check out Best 1000-watt Generator on Amazon
What it can run
Basic household appliances
A 1000 watt generator can run typical household appliances, including plasma TV requiring 200W, laptop 100W, CFL lights 10W-30W, box fan 200W, and a small halogen space heater 400W-800W.
Unfortunately, some of these appliances are at a higher risk of getting damaged by harmonic distortion (HD).
This happens when your generator is supplying 75%of of its maximum running capacity.
Even if you get one with an efficient automatic voltage regulator (AVR), some of your sensitive electronics may not survive.
Selected power tools
If you are planning to use a 1000-watt generator on a work site, there are some specific tools that it can run.
These include 1/4″ drill 250W, a battery charger for cordless tolls 8W-15W, and a portable nail gun fitted with a built-in compressor 450W-650W.
Other tools, such as an air compressor or table saw, require a generator with watts more than 1000.
What it cannot run
Kitchen appliances
A standard refrigerator requires up to 1200 watts starting and running. Consequently, it will be difficult to supply running watts with a 1000 watts generator, let alone starting watts.
Kitchen appliances with a starting wattage of 100-700 watts are considered low energy ratings but rare.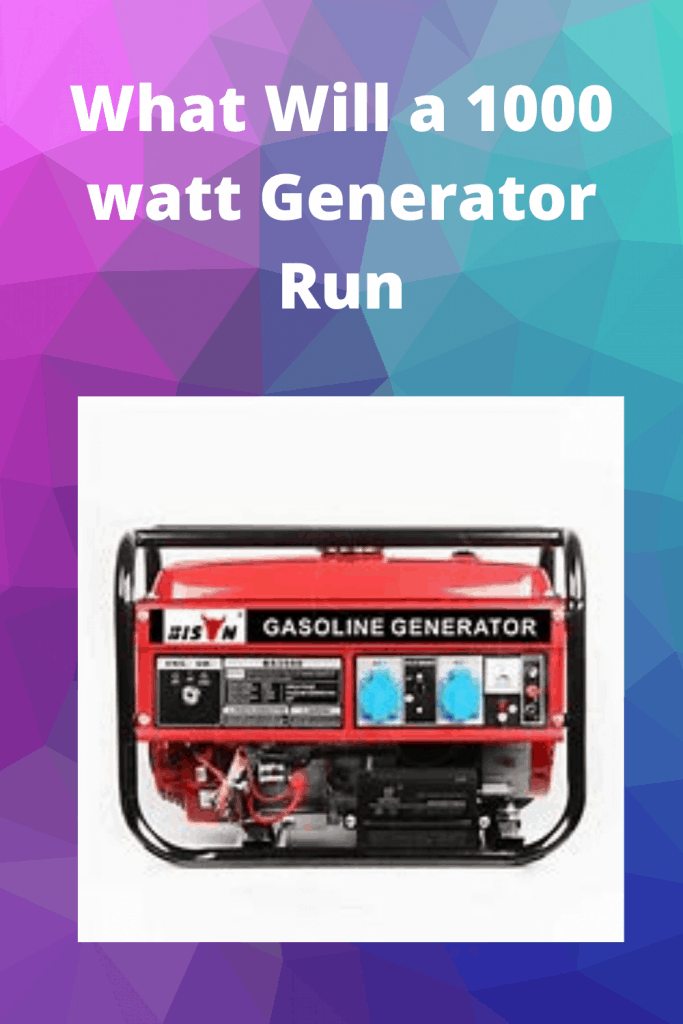 Even if you find one, it will still push the generator beyond its limits.
Knowing how power a 1000W generator can supply will help you decide the type of appliances and tools to use.
If your device will not start or run using this generator, then it is advisable to get something with more watts. Check out Best 1000-watt Generator on Amazon
Below are some of the best 1000 Watts generator
Jackery Portable Power Station Explorer 1000
Jackery is a company that was founded in 2012 in California. They specialize in making green outdoor power solutions for wilderness explorers.
Jackery's portable power station is perfect for outdoor activities where you'll need power! Outdoor parties, outdoor camping, and grilling with the family.
The main features of the portable generator are listed below.
The portable power station offers these features:
1000W wattage and 1002Wh capacity.
3 Pure Sine Wave AC Outlets for extra capacity to power more AC appliances at once.
2 USB ports with 1 Quick Charge port for small devices such as tablets, phones, or laptops.
Solar Power function that can power your mini-space heaters, cooling fans, mini-fridges, portable ovens, coffee makers
The power station can also power your outdoor party! It can power your TV's, electric grills, and blenders.
If you're looking for a power generator to power your outdoor activities, consider ordering the Jackery Portable Power Station Explorer 1000 on Amazon!